Metal Bending
We offer sheet metal bending of material upto 10mm thick and 2.5m wide.
Standard materials worked with including:
Mild Steel: 6mm
Stainless Steel: 4mm
Aluminium: 10mm
Inhouse cutting facilities include a YSD 2.5m guillotine.
Metal forming capacity includes:
AMADA HFE 80-25 (2.5m)
Promecam PPH 25.12B
The AMADA FE 80-25 offers:
80 Ton Capacity
1m Back Gauge
Seven Axis
2.5m width
470mm Open Height
200mm Stroke Length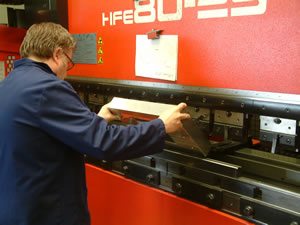 Combined with the Promecam which is a much smaller 25 Ton x 1200mm work station we have the facilities to undertake the metal bending of brackets, profiles and hems as well as boxes, cabinets, trays and general fabrications.
We standardise on AMADA tooling which Allows for a wide range of bend types ranging from standard 90 bends, deep bending for enclosures, L-shapes and hemming through to radius bending and radius rolling.
As well as standard brake press tooling we are able to arrange for custom tooling for bespoke jobs to customer specification.