Welding
Our in-house welding section contains modern equipment offering the very best services in MIG, TIG, MMA, Stud & Spot welding to the highest standards. Materials that can be welded include:
Mild steel
Stainless Steel 304, 316, Duplex, Hasteloy, Iconel
Aluminium
Brass
Our facilities offer three dedicated welding bays which are primarily used for TIG welding, one for benchwork and the other two for larger fabrications. All welding bays are equipped with dust and fume extractors in accordance with Health & Safety requirements.
Relevant welding standards worked to include EN ISO 15614 Part 1 2004 / EN287 Part 1 and ASME IX (for MIG, TIG and MMA welding in Carbon Steels and Stainless Steels).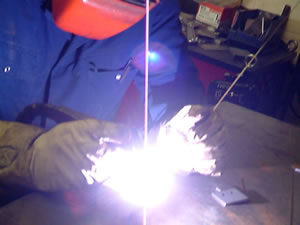 We hold a wide range of welding rods suitable for most jobs and employ highly skilled welders with years of experience from a variety of backgrounds capable of undertaking most welds working from engineering drawings including square, U, V, J, bevel, fillet, seam and T joints.
Where required full jigging can be provided for large and small jobs with all machining carried out inhouse. Small items and thin gauge sheetmetal can be welded, using tack welds beforehand and heat sinks to prevent buckling.
Sheet metal can be spot welded inhouse using our 30Kva spot welder which is equipped with a variety of electrodes for most requirements.
Welds can be finished using a variety of tools including angle grinding, filing, linishing and polishing.