CNC Punching
We undertake CNC punching on sheet upto 1020 x 2000mm and 6mm thick. CNC punching is carried out on our Pierce-All TITAN CNC punch, specifications below:
25 TONS CAPACITY
10 STATION
1 AUTO-INDEX
HYDRAULIC CNC PUNCH PRESS
1020 x 2000 Sheet Capacity
±0.1mm Accuracy
Numeric Controls
6mm Max Sheet Thickness
75mm Max Hole Size
42m/min Combined Axis Speed
Our CNC punching services are suitable for the production of medium to high volume component production such as brackets, flanges and general profiles in most materials.
The CNC punch also allows us to manufacture larger sheet metal profiles for enclosures, chassis, boxes and general fabrication requirements.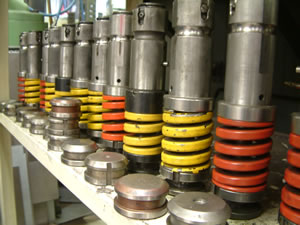 We use a range of tooling to suit the job at hand with a preference for Mate Precision high performance tooling allowing us to offer a wide range of shapes including round, rectangle, oval, square, quad-d, hexagon, octagon, diamond and triangular holes as well as contouring, cutting, slotting, knockouts, louvers, clusters, countersinks and more, all to a reliable and consistent accuracy from the beginning of a batch to the end.
Other punching plant includes:
Shape Machine Ltd Perf-o-matic
2 x Fly Presses
6mm Notcher
This plant allows us to undertake most jobs and combined with highly skilled and experienced staff stands as a principle component of our overall production capacity.